Galim - Seminar Patish 2018-19
Opening Seminar for Shachbag for 2018-19 activity year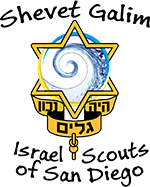 להורי וחניכי שכב"ג שבט גלים שלום,
אנחנו מתרגשים לקראת הפתיחה של שנה חדשה!
כרגיל, נפתח את השנה בסמינר שכב"ג של יומיים הכולל לילה במחנה Dixon Lake.
הסמינר הוא ללא עלות לחניכי השכב"ג.
תודה,
שבט גלים
---
Shachbag Shevet Galim parents and chanichim Shalom,
We are excited about the opening of a new year!
As usual, we will kick off the year with a 2 day Seminar for the Shachbag and overnight camping at Dixon Lake.
The seminar is free of charge for Shachbag.
Hazak Ve'ematz
Shevet Galim
When
August 31st, 2018 4:00 PM through September 1st, 2018 6:30 PM
Location
Dixon Lake




Escondido

,

CA

92027




United States