The tiyul is a day long hike, during which the groups go through a number of outdoor activities, on topics such as nature, protecting the environment, and of course, the focus of the tiyul – their new Anivah (Neckerchief).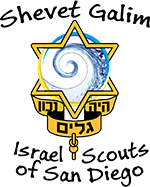 להורי וחניכי שבט גלים שלום,
אנחנו מתרגשים לקראת טיול עניבות 2018! 
הטיול ללא עלות אך מחייב שני דברים:
אישור הורים להשתתף בטיול
חניכים חייבים להיות חברים בשבט גלים (לאחר תקופת נסיון)
תודה, 
שבט גלים
---
Shevet Galim parents and chanichim Shalom,
We are excited about Tiyul Anivot 2018!
The seminar is free of charge for all chanichim but does require two things:
Parents permission to take part in the tiyul
Chanichim must be a full-time member of Shevet Galim
Hazak Ve'ematz
Shevet Galim
When
October 7th, 2018 9:00 AM through 4:00 PM
Location
Solana Ranch Park




13605 Pacific Highland Ranch Pkwy




San Diego

,

92130




United States