Galim - Winter Camp 2018-19
Click "Register Now" to register your child(ren) for the winter camp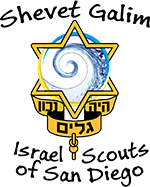 המחנה שכולם מחכים לו אוטוטו מגיע... מחנה חורף 2018 של שבט גלים!!
במחנה החניכים יעברו פעולות בנושאים שונים באווירה ישראלית! הנושא הנבחר הוא 'צ'ארלי בממלכת השוקולד' והערכים הנגזרים מהסרט ישולבו בפעולות (ערכים כמו משפחתיות, כבוד, חברות ועוד...) החניכים יעברו פעילויות צופיות בטבע ויחוו חוויות מיוחדות ושונות מהפעולות בשבט!
סוף שבוע של פעילויות כיפיות, אטרקציות, ארוחות טעימות, מלא כיף עם כל החברים באווירה חורפית מחוץ לעיר!
אל תפספסו את ההזדמנות לתת לילדכם חוויה שתשאר לכל החיים.
המחנה יתקיים ב- Camp Marston קרוב ל- Julian, CA - כשעה מ-San Diego.
שעת יציאה לשכב״ג + ט׳: יוצאים ביום שישי, ה-14 לדצמבר, בשעה 3:30PM מ-SDJA (על חאקי)
שעת יציאה לשכבות ג׳- ח': יוצאים ביום שבת ה-15 לדצמבר, בשעה 7:30AM מ-SDJA (על חאקי)
חזרה: כולם יגיעו בחזרה לשבט (SDJA) ביום ראשון ה-16 בדצמבר בשעה 6:00PM
---
During the camp, the kids will experience different activities in an "Israeli atmosphere." The theme that was chosen for the camp is "Charlie and the Chocolate Factory." The main values of the movie will be inserted into the different activities (e.g., family values, respect, friendship etc.) The children will experience camp style activities that are very different than their regular weekly activities in the Shevet.
A weekend full of fun activities, attractions, delicious meals, full of fun with all the friends in a winter atmosphere outside the city!
Do not miss the opportunity to give your child an experience that will last a lifetime.
The camp will take place at Camp Marston near Julian, CA, about an hour from San Diego.
Departure (9th-12th grades): Friday, December 14th at 3:30PM from SDJA, dressed in Khaki
Departure (3rd-8th grades): Saturday, December 15th at 7:30AM from SDJA
Return (Everyone): Sunday, December 16th, 6:00PM. Pickup from SDJA
When
December 14th, 2018 3:30 PM through December 16th, 2018 6:00 PM
Location
Camp Marston




4761 Pine Hills Rd




Julian

,

CA

92036




United States
Seminar Fee(s)
| | |
| --- | --- |
| Winter Camp Late Fee | |
| Winter camp late fee | $ 225.00 |
| Winter camp late fee (Offline Payment) | $ 0.00 |