Click "Register Now" to register your child(ren) for the winter camp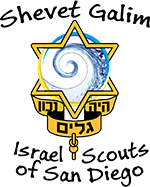 המחנה שכולם מחכים לו אוטוטו מגיע... מחנה חורף 2019 של שבט גלים!!
יום אחרון להרשמה מוקדמת 11/30. התשלום הוא $225
הרשמה מאוחרת: בין 12/1-12/4. התשלום הוא $250
12/4 יום אחרון להרשמה.

במחנה החניכים יעברו פעולות בנושאים שונים באווירה ישראלית! הנושא הנבחר הוא "דיסני" והערכים הנגזרים מהסרטים ישולבו בפעולות (ערכים כמו משפחתיות, כבוד, חברות ועוד...) החניכים יעברו פעילויות צופיות בטבע ויחוו חוויות מיוחדות ושונות מהפעולות בשבט!
סוף שבוע של פעילויות כיפיות, אטרקציות, ארוחות טעימות, מלא כיף עם כל החברים באווירה חורפית מחוץ לעיר!

אל תפספסו את ההזדמנות לתת לילדכם חוויה שתשאר לכל החיים. 

המחנה יתקיים ב- Camp Marston קרוב ל- Julian, CA - כשעה מ-San Diego.

שעת יציאה לשכב״ג + ט׳: יוצאים ביום שישי, ה-13 לדצמבר, בשעה 3:30PM מ-SDJA (על חאקי)
שעת יציאה לשכבות ג׳- ח': יוצאים ביום שבת ה-14 לדצמבר, בשעה 7:30AM מ-SDJA (על חאקי) 
חזרה: כולם יגיעו בחזרה לשבט (SDJA) ביום ראשון ה-15 בדצמבר בשעה 5:00PM
אנא הרשמו למחנה חורף בלינק הבא
מחנה החורף באתר השבט: 

בברכת חזק ואמץ,
קסם, שני, אלונה, וועד שבט גלים. 

רשימת ציוד:
חאקי מלא
בגדים להחלפה
בגדים חמים ללילה (הטמפרטורות בלילה יכולות להגיע ל-40 מעלות פרנהייט)
חולצה לבנה לקבלת שבת ו/או הבדלה
נעלי הליכה סגורות
כובע (לשמש)
כובע חם וכפפות לערב
פנס
מים + בקבוק למים רב פעמי
חטיפים
נייר טואלט
קרם הגנה
שק שינה חם ושמיכה
מברשת ומשחת שיניים (מגבת וכלי רחצה)
שבט גלים אינה אחראית לפריטים אבודים או גנובים.
אנא תייג את כל הפריטים, ואל תביא אלקטרוניקה או חפצים יקרי ערך.
---
The camp that everyone has been waiting for is coming ... Shevet Galim's Winter Camp 2019!!
Last day for early registration for camp is 11/30. Cost is $225
Late registration 12/1-12/4 cost is $250. 
Last day for registration is 12/4.

During the camp, the kids will experience different activities in an "Israeli atmosphere." The theme that was chosen for the camp is "Disney." The main values of the movies will be inserted into the different activities (e.g., family values, respect, friendship etc.)  The children will experience camp style activities that are very different than their regular weekly activities in the Shevet. 
A weekend full of fun activities, attractions, delicious meals, full of fun with all the friends in a winter atmosphere outside the city!

Do not miss the opportunity to give your child an experience that will last a lifetime.

The camp will take place at Camp Marston near Julian, CA, about an hour from San Diego.

Departure (9th-12th grades): Friday, December 13th at 3:30PM from SDJA, dressed in Khaki
Departure (3rd-8th grades): Saturday, December 14th at 7:30AM from SDJA
Return (Everyone): Sunday, December 15th, 5:00PM. Pickup from SDJA
Please use the following link for registration
Winter Camp in the Galim's website: 

Hazak ve'ematz, Kesem, Shani, Alona and Va'ad Shevet Galim
 
Things to pack:
Khaki
Clothes for 2 nights, including warm clothes (please check weather, machane is in-land and it is likely to be cold)
A White shirt for Kabbalat Shabbat and/or Havdalah
Extra socks
Flip flops or other shoes for showers
Walking shoes (must be closed shoes)
Warm hat and gloves for this night
Cap / Hat
Flashlight
Water and reusable water bottle
Sunblock
Toilet Paper
Warm sleeping bag and an extra blanket (the temp. may go down to about 40 degrees Fahrenheit)
Shower supplies including toothbrush/toothpaste
Towel
Snacks to share with group (optional)
Shevet Galim is not responsible for lost or stolen items.
Please label all items, and do not bring electronics or valuables.
When
December 13th, 2019 3:30 PM through December 15th, 2019 6:00 PM
Location
Camp Marston




4761 Pine Hills Rd




Julian

,

CA

92036




United States